BPM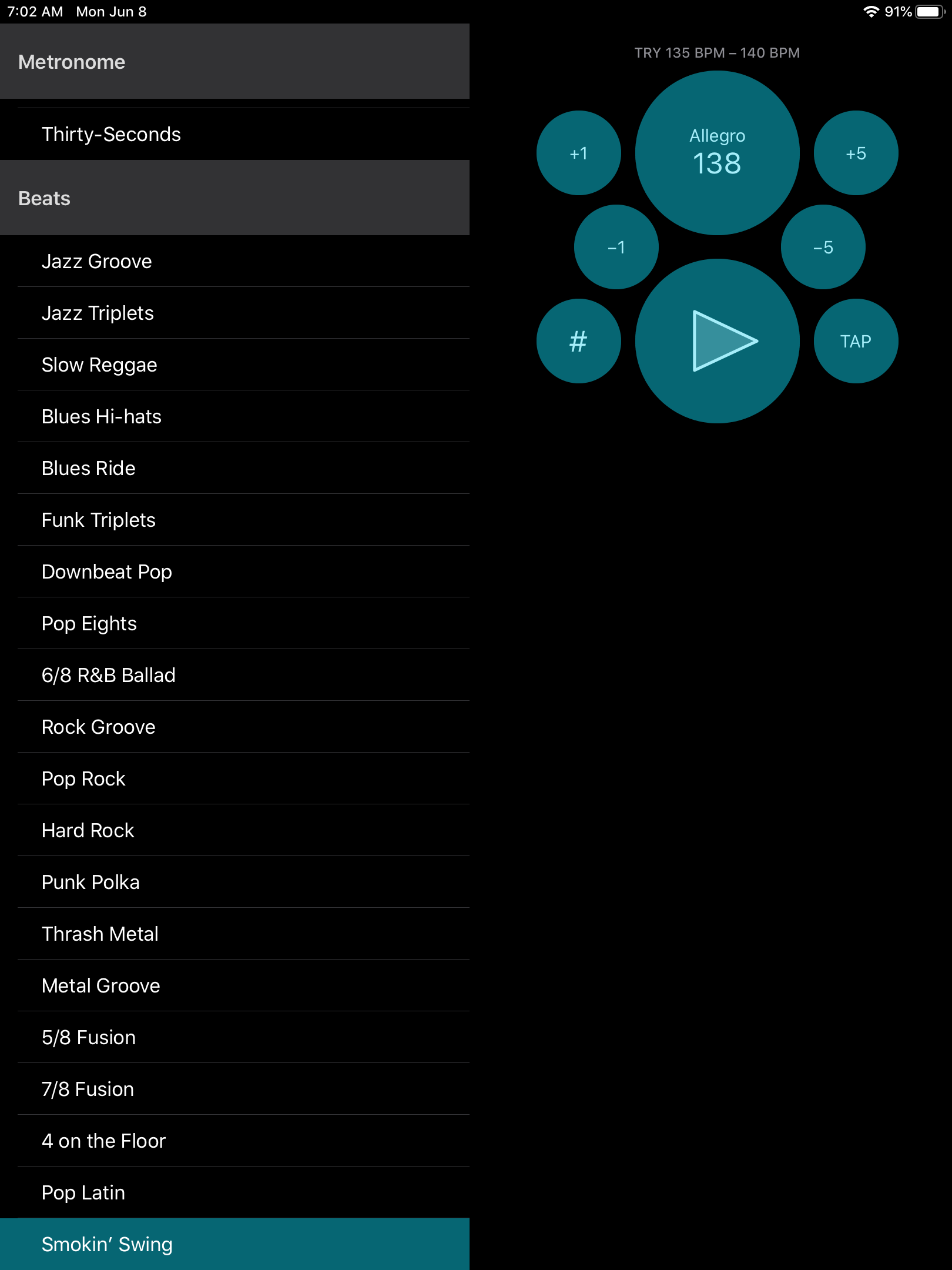 An Easy-to-Use Practice Metronome & Drum Loop App
Simple, Thought-Out Features
Easy-to-change tempo with +1, -1, +5, -5 BPM buttons. Tap the big button to get an "analog" tempo spinner. Or enter a number with "#".
Tap five or ten steady quarter-notes to set the tempo for something you hear, using the TAP button.
No unnecessary fiddling or messing around. Just quickly pick your tempo and pick your metronome or drum loop style.
Use the same metronome on your iPhone, iPad, and Mac!
Dark and light themes to match the device settings.
With Dozens of Built-in Drum Loops
Built-in Metronome meter settings (time signatures) and Percussion beats:
Metronome
Tick
Bass Pulse
Twos
Cut Time
Threes
Triplets
Slow Shuffle
Fast Shuffle
Fours
Gallop
Fives
Five/Eight
Sixes
Six/Eight
Seven/Eight A
Seven/Eight B
Eights
Twelve/Eight A
Twelve/Eight B
Twelve/Eight C
Sixteenth Notes
Thirty-Seconds
Beats
Jazz Groove
Jazz Triplets
Slow Reggae
Blues Hi-hats
Blues Ride
Funk Triplets
Downbeat Pop
Pop Eights
6/8 R&B Ballad
Rock Groove
Pop Rock
Hard Rock
Punk Polka
Thrash Metal
Metal Groove
5/8 Fusion
7/8 Fusion
4 on the Floor
Pop Latin
Smokin' Swing
Privacy Policy
The BPM App and this website do not collect any of your data on the device or on the server, nor do they use any third-party tracking systems of any kind. You're welcome.
Also check out Harmonious: the exhaustive piano & guitar
chord & scale app